Happy Birthday Wishes for Sister – Best Birthday Wishes
Happy Birthday Wishes for Sister
Having a sister is a precious luxury. She will always be that person that you can share your deepest secrets with. You can always count on her to be there to share the difficult mountains that you may have to climb and those surprising moments of joy.
In turn, you will be her shoulder to cry on over a lost love, or maybe splitting a bottle of Champagne in celebration of her big promotion, by her side when she finally gives her heart to another and you will always thank her for making you laugh harder than anyone else you know.
A birthday is just another excuse to tell your sister why she will always be your favorite person. A traditional brunch and mimosas can be a classy way to tell her how much you love her or maybe it's buying her favorite line of body and face washes, so that she can feel beautiful wherever she goes. And if all else fails, a memorable card will suffice.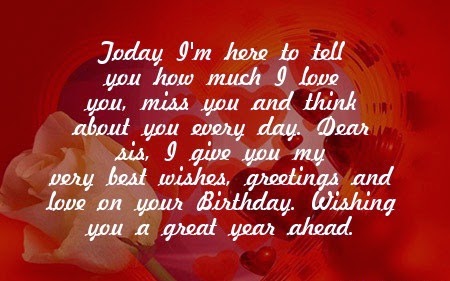 If you have an average, good or very good relationship with your sister, pick one of the sister birthday wishes in this section. You should choose one that reflects how you feel about your sister.
Happy Birthday Wishes for Sister
You are everything that I could have asked for in a sister and more. I don't which of us is luckier! Happy Birthday.
They say that you can choose your friends but that you can't choose your family. I sure lucked out. Happy Birthday.
You can't stop having birthdays and you can't stop being my sister. And those are both good things. Happy Birthday.
You are the best sister that I have ever had. Even in my imagination. Happy Birthday.
Sisters don't have to be fun to be around, but it is great when they are. Happy Birthday.
I don't talk to you every day any more, but you are still in my heart every day. Happy Birthday Sister.
Hey you are my sister. Of course I believe you are THAT age. Happy Birthday.
Superheroes are one in a million. Great sisters like you are one in a lifetime. Happy Birthday!
Friends may come and go but sisters should always be around. Happy Birthday.
Sometimes you fight with sisters, but you always make up. Sisters are keepers. Happy Birthday.
They say that a sister is a different flower from the same garden – and the sun was shining on your side. Happy Birthday.
You are everything that I could have asked for in a sister and more. I don't which of us is luckier! Happy Birthday.
Each and every day, I find so many reasons to be glad — no, ecstatic — you're my sister. I love everything about you. Happy birthday, sis!
Sis, I love you more than you can ever imagine. In fact, take how much you think I love you, double this amount and multiply by 1,000. On your birthday, multiply this amount by 1,000,000. Happy (to the power of 10) birthday!
Family made us sisters, life made us friends. Here's a great big birthday hug full of love and happy wishes as you celebrate your special day!
Happy Birthday Wishes for Sister
It is wonderful having a sister like you. If I have another chance I will choose to be my sister over and again because no one else can love and care like you do. Happy birthday to you my dearest sister.
You are such a great sister who is unstoppable and I am very proud to have you before me. Happy birthday!
What a great opportunity to see another year! Surely, I see all things turning around for your good. Happy Birthday!
I dream of good health and happiness and I want those dreams to come true for you too. Happy Birthday Sister!
I saw a falling star and I wished for you to be happy and to have fulfillment in love, career and life. Happy Birthday!
I can wish all the riches in the world for you but I know that what would really make you happy are things that money cannot buy. So I wish you all the intangibles that can make your spirit rich. Happy Birthday!
A sister like you can be compared to a rainbow because you bring so much color to my life. I wish you a happy birthday and a brighter year ahead sister!
I never believed that one person is capable of expressing all these emotions – jealousy, happiness, anger, joy — all at one time. Only you, sister, can have such a colorful life. Happy Birthday!
You are the best sister for me. I actually don't have any choice because you are the only sister I have. Happy Birthday Sister!
We grew up much like twins and I admit I am having a hard time now that we are living our own lives. Seeing you during your birthday is one of the best gifts for me and for you. Happy Birthday!
I can only count the blessings that I wish the Lord would grant you today. Now you can start counting your candles and the gifts that your loved ones have brought for you. Happy Birthday!