Happy Birthday Wishes for Mother/MOM – Best Birthday Wishes
Happy Birthday Wishes for Mother
Here is the best collection of beautiful Mom
Birthday Wishes
. Every mother deserves special recognition on her birthday. If you have the chance to visit, bring a gift. Maybe she always loved chocolate cherries. Bring her a box, wrapped in elegant paper.
Add a card that you have bought yourself, with a special birthday message you have written inside yourself. If you can't show up in person, you can still send gifts and messages. Try to send a package or a card early enough so that it will arrive on time. It's important to show your mother that you are thinking of her. We all like to be remembered at special times.
Here is a list of special mother's birthday wishes that can be added to a card or sent by email. Messages sent by email can be sent at the last minute and still arrive on time! Think of what a treasure it will be when she opens her email on the day itself and finds a little message from you.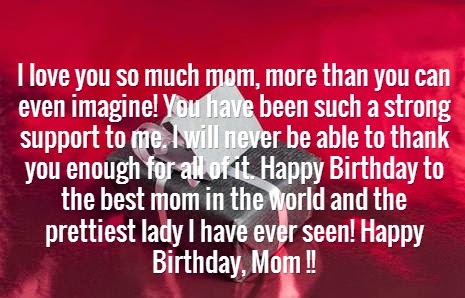 With loving thoughts and memories of the wonderful mother you've always been I'm sending Birthday Wishes for you to enjoy a special day and remember how very much you are loved.
Happy Birthday wishes for Mother
Mom, no one can ever take your place in my heart. I love you forever and ever. No matter where I go or who I meet, you will always be number one to me.
Every day I wake up, I always have you to thank. I have your guidance, your warmth, your love, and your heart. Someone who loves me unconditionally. Right or wrong, you are always my mom.
Heartfelt greetings to my angel darling. May your day be made of sweetness. Happy birthday, Mom!
Throughout my life, you have always been the strength that holds me up in the storm of life. I love you Mama.
My greatest wish is to grow up and become just like you. Happy Birthday Mother and thank you for all your strength and advice that have helped me become the person I am today.
You have given me such great advice over the years, Mother. I want to take this special day and use it as an opportunity to thank you for all that you do.
Thanks for always believing in me, Mom. Have a terrific day today.
I love you from the bottom of my heart. You are very special. Mom! Happy birthday!
Happy Birthday Wishes for Mother
With loving thoughts and memories of the wonderful mother you've always been I'm sending Birthday Wishes for you to enjoy a special day and remember how very much you are loved.
Dearest Mother, you guided me and gave me your boundless love. On your birthday I wish you much peace and joy. May your day and year be filled with blessings, and be as wonderful as you.
Many Are Your Gifts. A heart that knows love, a soul that knows joy, a spirit that knows giving. Thank you for being everything a child could ever want. Happy Birthday, dear Mommy!I'm rich because of how much time, love, your daily example you have invested in me and the sacrifices you have made for my benefit. There couldn't be a Mother more wonderful than you. I wish you a Happy Birthday from the bottom of my heart!
You are an everlasting bloom in a wonderful garden where only love and beauty grows! Happy Birthday, dearest Mother!
My dear Mom, you love and give,
And make life such a fun to live,
That nothing but the best will do,
And that is what I wishe for you!
Happy Birthday!
There is no other Mom like you. You stood by me even when I was wrong. I'm sending my love on your birthday and want to tell you how special you are to me today and always.
On your special day I celebrate all that you are and all that I am because of you. There are many ways you make this world a more beautiful place! With all of my emotions, I wish you a Happy Birthday!
These days I don't get much of a chance to see you and talk with you. But I want you to know I never get so busy that I don't think of you, smile and and feel lucky to have such a brilliant mother as you! I wish you a very warm and Happy Birthday!
God bless you on your birthday,
And each day all year through,
For all the loving things you are
And all the things you do.
God bless you for your warm and love,
And more than any other,
God bless you just for being you —
My dear loving Mother!I would like to say you are loved much more than words can tell,
Not just on special day like this, but on every single day!
Happy Birthday, may God bless you in every step you take.Good kids come from good Mothers! You have always been the most amazing Mom. I am so grateful to share this special day with you!
As a husband what can you do to make the birthday of your dearest wife so special and memorable? Convey the best wishes to your Wife with our
Happy Birthday Wishes for Wife
.