Belated Happy Birthday Wishes – Best Birthday Wishes
Belated Happy Birthday Wishes
The sweetest and the cutest late birthday greetings have the power to bring a smile back on the face of a friend who is sulking because you forgot his or her birthday. From funny quotes to messages that reek regret and apology – do whatever it takes to let your bestie know how sorry you are.
Continue your apology spree on Facebook and follow it up by uploading sad selfies on Instagram. Do whatever it takes to make your friend forgive you for your forgetfulness.
Regardless of your age the meaning of friendship never changes – so say sorry with lots of hugs, a heartfelt apology and awesome gifts. Pamper your friend silly to prove that you are truly best friends forever.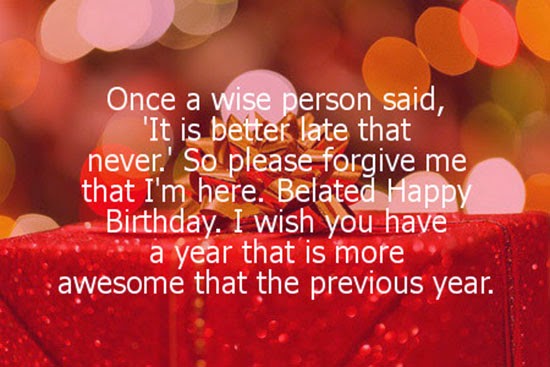 Belated Happy Birthday Wishes
Lately, I've been thinking a lot about you. Very lately. Happy belated birthday.
My pen ran out of ink, my mind was out of "think." Happy late birthday.
I didn't miss your birthday. I am just fashionably late as always.
Could you have read my birthday message if I had send it right on time? But now I'm pretty sure you have. Happy Birthday!
I spent the whole time thinking about what I should text you for your birthday wish… until I ran out of time.
If you had delayed a day or two before you were born, this could have been your first birthday message. Happy Birthday!
I intentionally sent my birthday wish this late, just to prove how you are always special to people like me… but not on selected days of the year like some people think.
The greeting may be stale, but the sentiments are fresh. Happy belated birthday.
Birthday messages never go out of style. The stamps, however…sorry this is so late.
I only realized your birthday had passed when the male dancers I hired showed up in Depends. Happy day, girlfriend.
Good news! I escaped the mudslide, but your poor card…
The gang wanted me to send their birthday wishes. The gang should have sent the card.
I have been a bit snowed under lately. I dug out to find this card with your name. Happy late birthday.
Friend are friends forever, which is how long it took this card to get to you.
The message never changes, but the words do. H-BDAY! HF! That's happy birthday, have fun in text-ese.
Old friends are sweeter with age. Old fish, like old birthday wishes, stink. Hope it was great.
Belated Happy Birthday Wishes
I forgot your birthday, it has left me stunned. I just can't believe this has happened. Nothing can fix what I have done. But please remember that our friendship is second to none. Happy belated birthday.
I didn't wish you on your birthday because I didn't want to interrupt you in mourning the passing of yet another youthful year of your life. Happy belated birthday.Friendship starts with F but do you know what else starts with F? Forgetfulness and Forgiveness. So please forgive me for forgetting your birthday. Happy belated birthday.
You are my friend and I have sinned by forgetting your birthday. This gives you the right to be angry at me in every way. Be broody, don't stop sulking and keep throwing your temper tantrums at me. I will tolerate everything as long as you accept my apology. Happy belated birthday.
Because I forgot your birthday you are crying in pain and I am sobbing in regret – maybe this is fate's way of showing how much we mean to each other as friends. Happy belated birthday.
Just because my birthday wishes for you are belated, doesn't mean that my feelings for you are become outdated. My wishes may have come in a tad late, but that doesn't stop me from calling you my best mate. Happy belated birthday.
Birthdays come only once every year, but our friendship is forever. This is not an excuse for being forgetful, but to remind you how our friendship makes life so beautiful. Happy belated birthday.
There are two types of friends – one who forget you and the other who just forget your birthday. Thank your stars that I just forget your birthday. Happy birthday to my bestie.
Please forget that I forgot your birthday. I will be able to forgive myself only if you forgive me by forgetting that I forgot your birthday.
My mistake is inexcusable, so take your time in forgiving me. Be rude until my heart's pain you can see. I can understand that you are sad, I don't expect you to smile. But I will keep saying sorry until you do, even if it takes the longest while. Happy belated birthday.
Convey the best wishes to your Teacher with our Happy Birthday Wishes for Teacher.