Happy Birthday Quotes for Friends – Best Birthday Quotes
Happy Birthday Quotes
As you celebrate your day, I celebrate the beautiful friendship we share! Happy Birthday, dearest friend!
Happy Birthday to the best friend I ever had. Let's celebrate this special day of your life and party like there's no tomorrow.
Life is boring when you are not around. Happy Birthday to you – let's make it grand!
It feels amazing to have a friend like you in my life. Have a happy and fun-filled Birthday, buddy!
Friends… The only thing you could never have too many of! Thank you for being my friend. May all your birthday wishes come true!
Friendship is not something that is written on paper, because paper can be torn. It is neither something that can be written on a rock, for even a rock can break. But it is written on the heart of a person, and it stays there forever. Birthday wishes and blessings are coming your way, my friend!
I feel privileged to have spent one more year of my life with you. Wish you a very Happy Birthday, dear friend!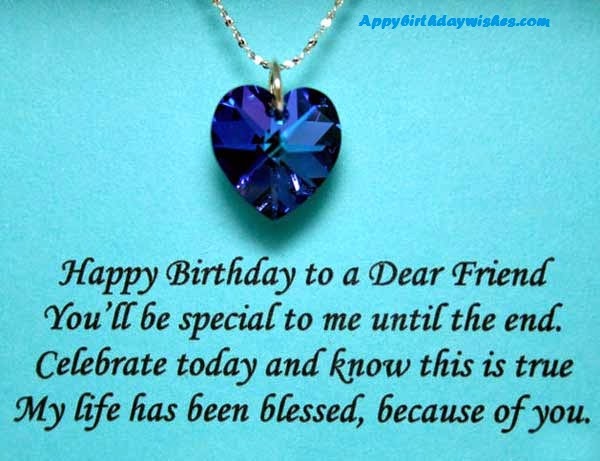 If you looked up the meaning of friend in the dictionary, your picture would appear. Happy Birthday, my friend. May the Lord bless you and keep you!
Today is a perfect day to tell that you are nothing less than one of my family member! I Wish you a very warm and happy birthday.
Happy Birthday Quotes for Friends
When we first met each other I knew we would always be friends. Our friendship has kept on growing and I'll be here for you to the end.You listen when I have a problem and help dry my tears. You take away my sorrow and put happiness in its place. Happy birthday my friend and thanks for being such a good friend, being here with me through it all.
I wish you a fruit from every tree, I wish you much honey from the bee,I wish you a rainbow without rain, I wish and wish for you, my friend. I wish you a wish for every dream, I wish you were happy as you seem,I wish you love for all your way, I wish you just a great birthday.
Live with intention, walk to the edge, listen hard, practice wellness, play with abandon, laugh, choose with no regrets, continue to learn, appreciate your friends, do what you love, love as if this is all there is.
A friend is someone who stands by you side, when you are in trouble and broken inside. A friend is someone who treats you with all the best and shines your day, when you are.
I have only one wish for a friend like you: may all your birthday wishes come true, adding up to 24 birthday hours of joy, wonder, warmth, hope, wisdom and, most of all, love.
To me, you're a friend with benefits — the ones that really matter, like loyalty, support, trust, respect, kindness, honesty and, of course, free Candy Crush lives. Happy birthday, buddy!
You support me, listen to me, appreciate me, respect me, advise me, amuse me, cry with me and, most importantly, let me be your friend…so I can do all these things and more for you. Happy birthday, BFF!
Happy birthday to a true friend. You're not a friend because you're a Facebook friend. You're not a friend because I meet you every week for coffee or lunch. You're not a friend because you're nice to me. It's because you're one-half of my whole…and I'm yours.
Fly free and happy beyond birthdays and across forever, and we'll meet now and then when we wish, in the midst of the one celebration that never can end. – Richard Bach
You are an amazing person and the best friend of mine. May God give you all his love and warmth in every step of yours. Wishing you a very Happy Birthday!
Angels are few, and so are you. And that is what makes you so special. Many many Happy Returns of the day. Have an amazing day and an even more amazing year ahead.
Every time I fell, you pushed me up. You never left me miss a step, shed any tear and feel any fear. I believe I wouldn't be the same without you.Happy Birthday my friend!
Our friendship is the pillar of foundation in my life,Thanks for supporting me all the time. Happy Birthday!
On your birthday may all that you asked from God be granted to you hundred fold! Happy Birthday to my sweetest friend. Always keep smiling the way you do! Have an amazing day and an even more special year ahead. May God Bless you.
A good friend like you is something hard to find, especially in nowadays, but when you find that friend it's like visiting heaven in a daily base. Happy Birthday my friend!
May our friendship last forever through the brightest days and the darkest nights. May my wish come true to go through the game of life with you. Happy Birthday!
Not everyone in this world is blessed with an understanding, trustworthy, caring and loving friend. That is exactly why I consider myself so incredibly lucky. A very Happy Birthday to you. Have an amazing day.
I'm so thankful I found a friend like you; a friend who fills my life with a pleasant dew every single day. Happy Birthday my buddy and may every wish of yours turn to reality.
Best friends are boon to our life and we need to be good in our relation with them. You need to surprise them with your wishes and make them happy at that day. Convey the best wishes for your friend with our Happy Birthday Wishes for Friends.